Kenya yesterday officially kicked off its candidature campaigns for the United Nations Security Council seat with the first launch in Addis Ababa, Ethiopia.
This is the first launch in a series of three that will take place in New York and in Nairobi, Kenya.
The event was attended by Ethiopia's Foreign Affairs minister Gedu Andargachew, deputy African Union Commission chairman Kwesi Quartey, commissioners, ambassadors and permanent representatives and members of the Diplomatic Corps in Ethiopia, among other dignitaries.
Andargachew congratulated Kenya for being endorsed by the AU and promised to work closely with Nairobi to ensure Africa interests are safeguarded.
"Kenya is privileged to be Africa's candidate for a non-permanent seat at the United Nations Security Council. We accept this high calling with gratitude and a deep sense of purpose," Foreign Affairs CS Monica Juma said.
Kenya is relying on a 10-point agenda to campaign for the UNSC seat.
They are building bridges, peacekeeping and support operations, regional peace and security, counterterrorism, women peace and security, youth empowerment, humanitarian action, justice, human rights and democracy and environment and climate change.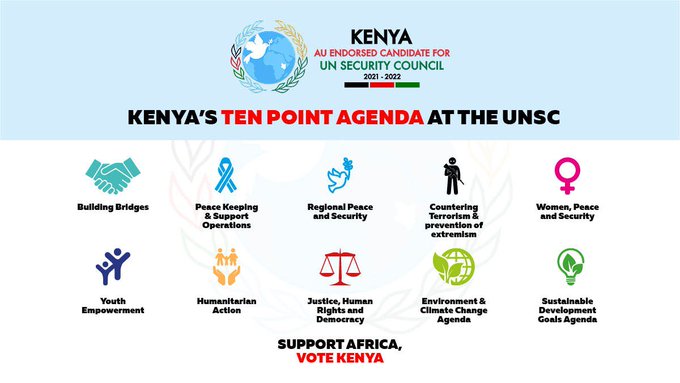 Juma commended the African Union for developing functional early warning systems and improvement in the use of preventive diplomacy for conflict prevention, which, she noted, is yielding better outcomes in peace building operations.
"Our peace-making, peace support operations, peace-building and post-conflict reconstruction and development processes are increasingly realising better outcomes. We are having solutions that are African inspired and African led".
The CS stressed on the need for Africa to tell their own stories in the global arena.
"I am reminded of a proverb from West Africa — "Until the Lion learns to tell his story, tales of the hunt will always glorify the hunter" I am persuaded that we have made great progress in the quest for peace and security on our great continent. We need to tell stories of our progress and achievements more often".
She promised that Kenya will strive to cultivate a climate of trust and transparency that promotes the respect for international rules and norms; sensitivity to each other's interests; peaceful resolution of conflicts; and increased cooperation in global peace and security efforts.
Kwesi Quartey said Kenya has always stood for Africa and there is no doubt they will represent Africa's interest.